LOCATION
ABOUT KOH CHANG
Koh Chang is the largest island in the Gulf of Thailand and is Thailand's second largest island after Phuket. It is a beautiful island with long white sandy beaches, crystal clear water,forests and waterfalls. There are more than 50 large and small islands nearby. Koh Chang is ranked one of the most popular islands in Eastern Thailand.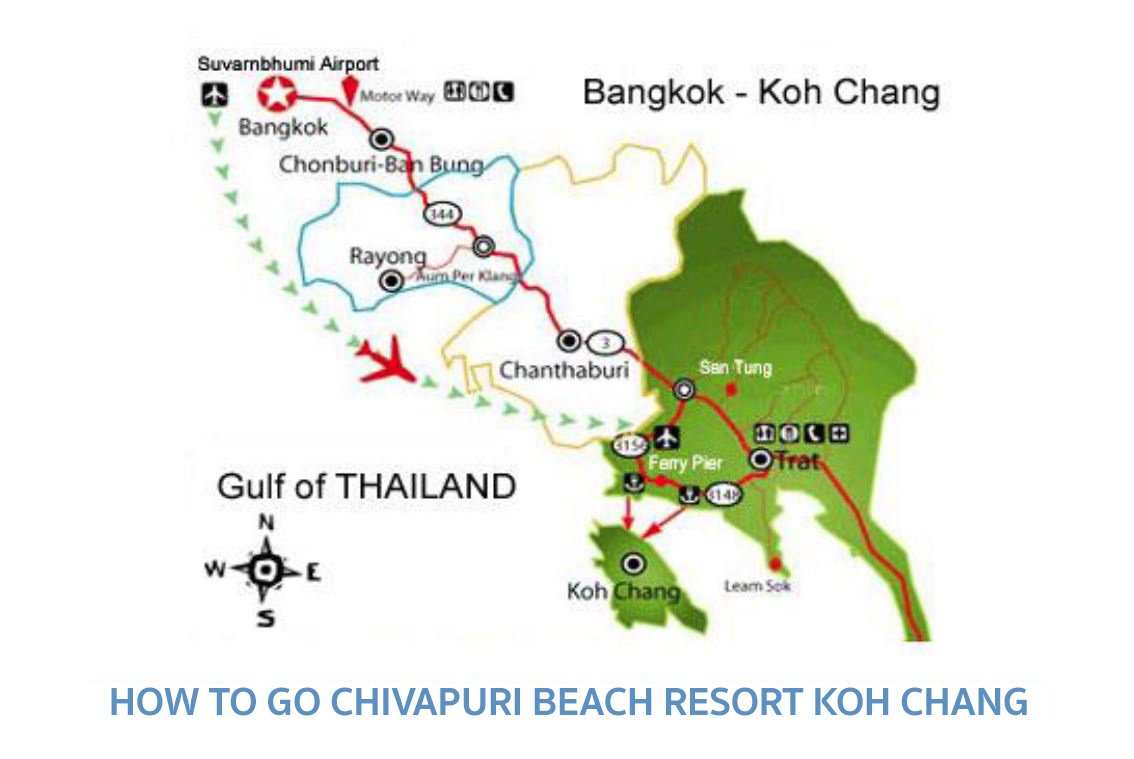 By Car
from Bangkok, there are three optional routes to choose from:
Bang Na Trad Road (Highway 3) through Chonburi – Rayong – Chanthaburi – Trat (Distance of 390 Kilometers
Bang Na – Chonburi – Klang – Chantaburi – Trat Route. Highway 3 through Chonburi, Pattaya, Rayong arriving at Klang District. Take Highway 3 again through downtown Chantaburi to Trat city. Total Distance travelled: 390 Km or alternatively you may choose to take route 36 from Pattaya through to Rayong over a total distance of 355 Km.
Highway (Route 7 Bangkok Motorway – Chonburi): proceed straight from Rama 9 – Srinakarin until you meet Highway 344 (Ban Bung – Klang) into the Klang district. Proceed from Motorway 3 passing Klang District in Chanthaburi province, then cross the Wepu bridge through Saosaming District and straight into Trat city. Total Distance travelled: 315 Km. If you do not wish to visit Trat city, you can drive directly to the Ferry terminal and turn right into Lam-Ngob area.
By Bus
There are standard buses and air-conditioned buses operated by The Transport Company Limited and by private bus companies from Bangkok to Trat departing from Eastern Bangkok Bus Terminal (Ekamai) on Sukhumvit Road and departing from Northern and Northeastern Bus Terminal (Mochit 2) on Kamphaeng Phet 2 Road every day. Travel time takes around 5 hours. For more information, call The Transport Company Limited call center 1490 or www.transport.co.th
Online bus ticket booking is now available at www.busticket.in.th or www.thaiticketmajor.com or www.thairoute.com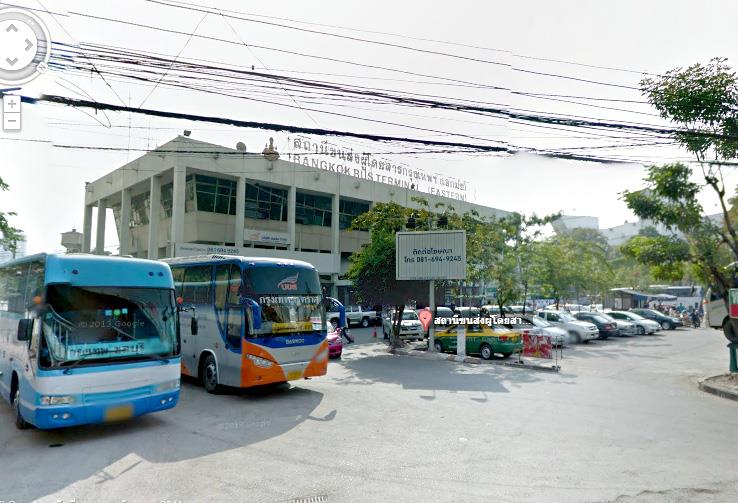 - When you arrival at Trat Bus terminal please find taxi blue of color.travel time takes around 30 minute to Ferry kohchang pier for price is THB.50 baht per person per way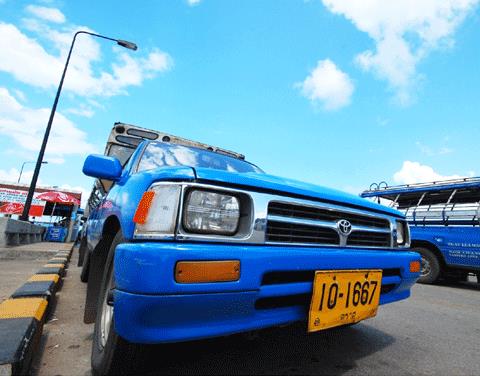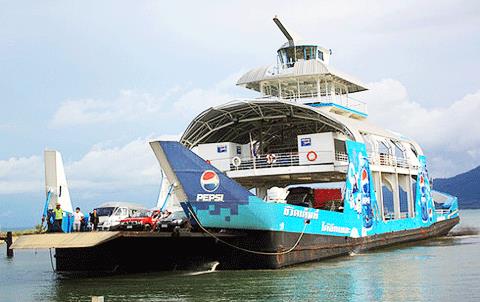 - When you arrival at koh chang please find the taxi to The Tropical Hideaway Travel time takes around 1 hour to resort THB.200-300 baht per person per way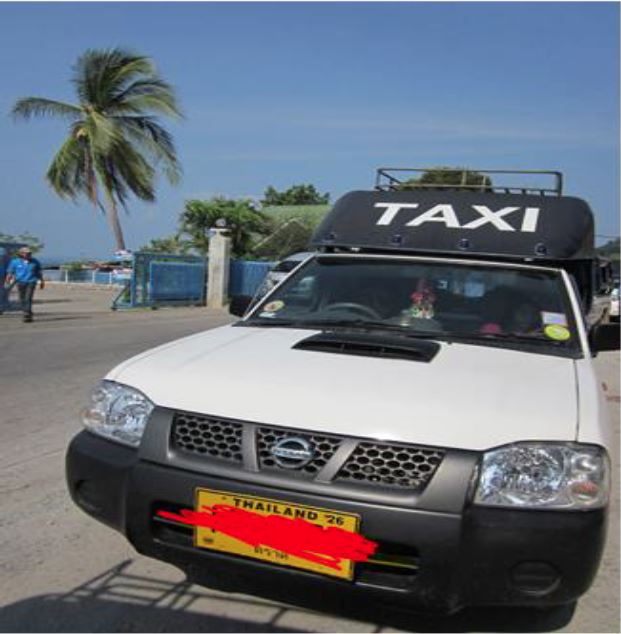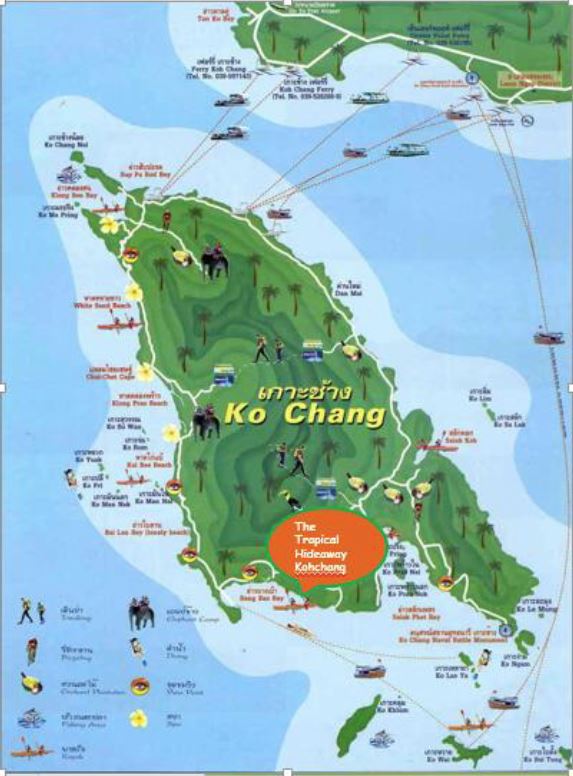 By Van
from Bangkok, there are three optional routes to choose from:
Pattaya - Ban Phe – Laem Ngob (Trad) leaving from Pattaya at 8:00 a.m.
Bangkok – Laem Nbog (Trad) leaving from Khao San Road at 8:00 a.m.
By Air
Bangkok Airways operates daily flight Bangkok-Trat 3 trips a day. Flight time is around 1 hour. For more information and ticket reservation, please call 0 2270 6699 (Bangkok Office) or 0 3952 5299-300 (Trat Office) or 0 3955 1654-5 (Ko Chang Office) or visit at www.bangkokair.com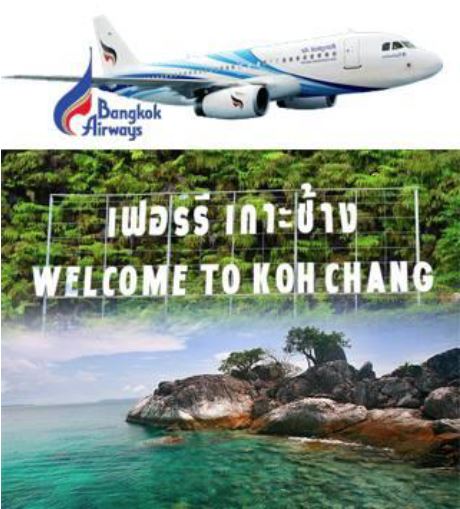 When you arrive at trat airport there have a minivan pick up and sent to our resror about price please contract at counter
WHERE TO GO
Hat Sai Khao (White Sand Beach) gets its name from the long stretch of soft white sand on the island.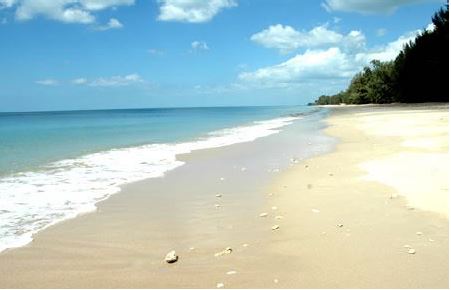 Hat Klong Prao is the largest area of the Koh Chang beaches, with coconut trees running along the beach edge.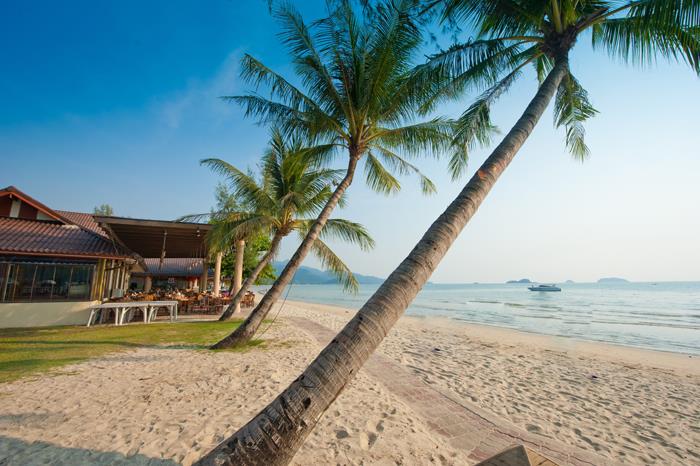 Hat Kai Bae has a lovely beach with calm and clear water possible for swimming and snorkeling to explore some corals and reef fishes.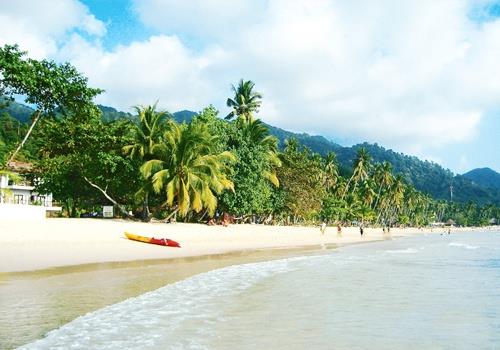 Hat Kai Mook (Pearl Beach) is not a sandy beach. It consists of shingle and rocks that look like 'pearl'.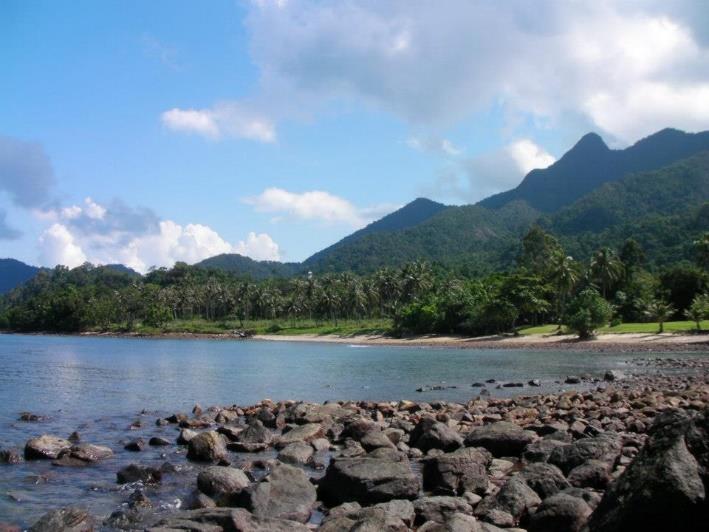 Hat Tha Nam (Lonely Beach) is the best spot for watching the sunset and is a bit separated from the rest of the island.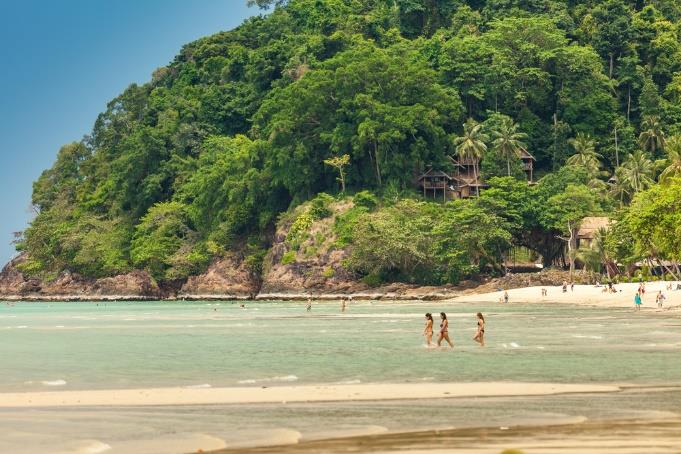 Koh Chang Remembrance is a shrine built in remembrance of the sailors who lost their lives in the waters off the island during the battle against the French navy. Klong Plu Waterfall is the principal waterfall on the island, can be reached from Kaibae Beach and Klong Prao Beach. It is located a bit into the jungle but easily accessible. Than Mayom Waterfall is the most famous waterfall in Koh Chang. It is a medium-sized waterfall set in fertile virgin rainforest and it provides a camping spot in the area. Ban Chang Thai offers tourists the experience of elephant ridings and elephant shows.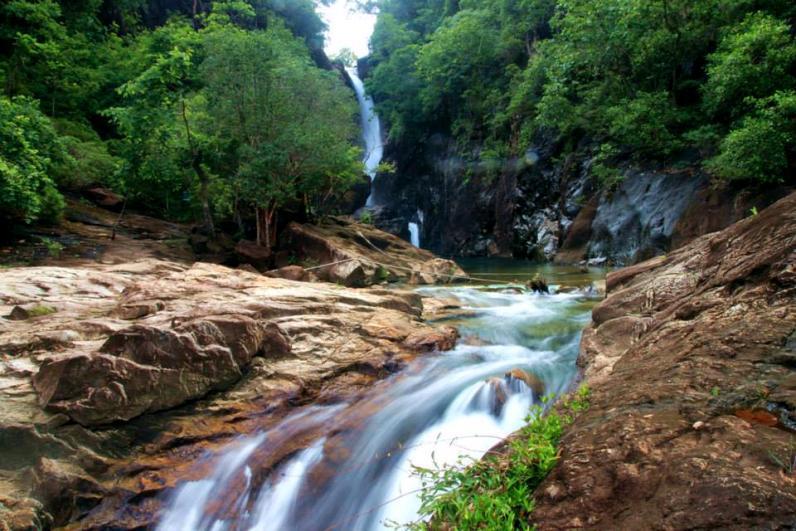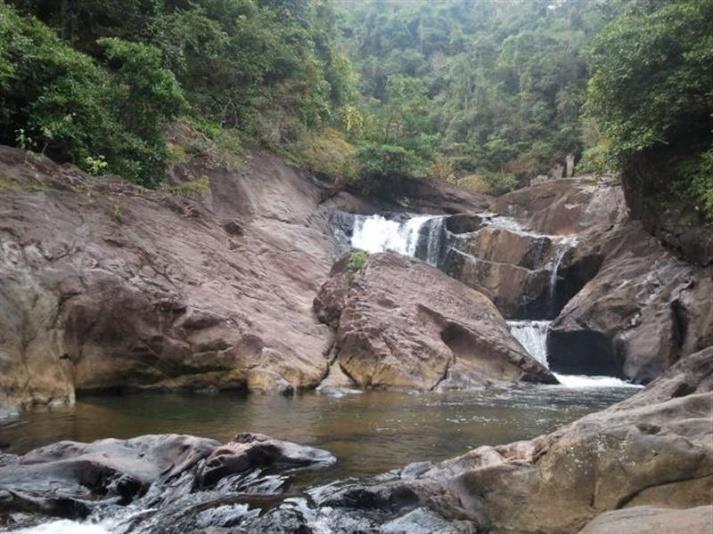 FOOD & DRINK
Visit the fisherman village and enjoy delicious fresh seafood at Bang Bao and Ban Salak Petch. Around White Sand Beach and Klong Prao Beach area offer numerous beach restaurants. For nightlife hangouts, there are many resorts offering bars and lounges ranging from dynamic to chilling-out ambiences on popular beaches of White Sand Beach and Kai Bae Beach.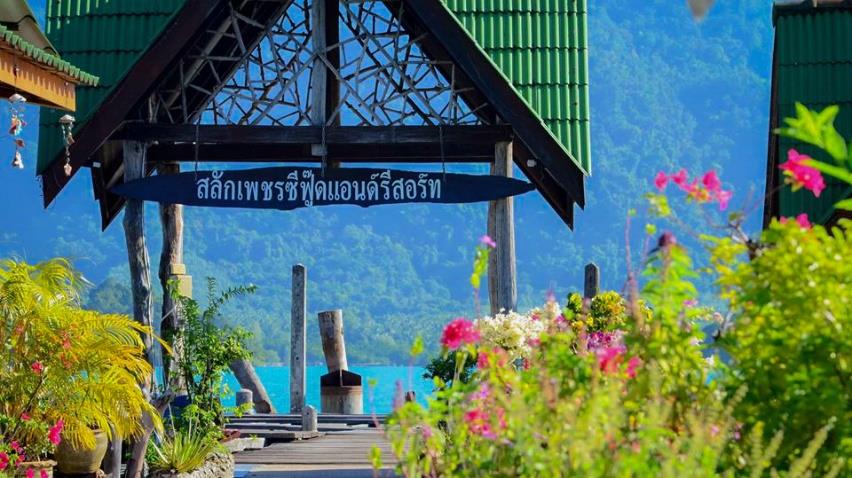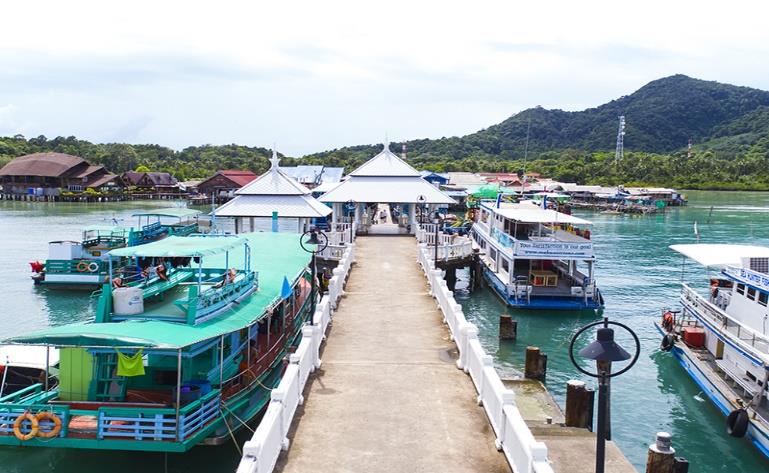 SHOPPING
Famous gift products of Koh Chang are dried seafood, rambutans and durians. Durian paste candy is a popular gift item. If you want to buy fresh fruits at a cheaper price, go to Ban Salak Petch which is a community of fruit farmers where you can select and buy directly from fruit farmers. Ban Bang Bao has several souvenir shops that sell seafood products, dried salted fish,shrimp paste, dried squid and pandanus leaf salted eggs.